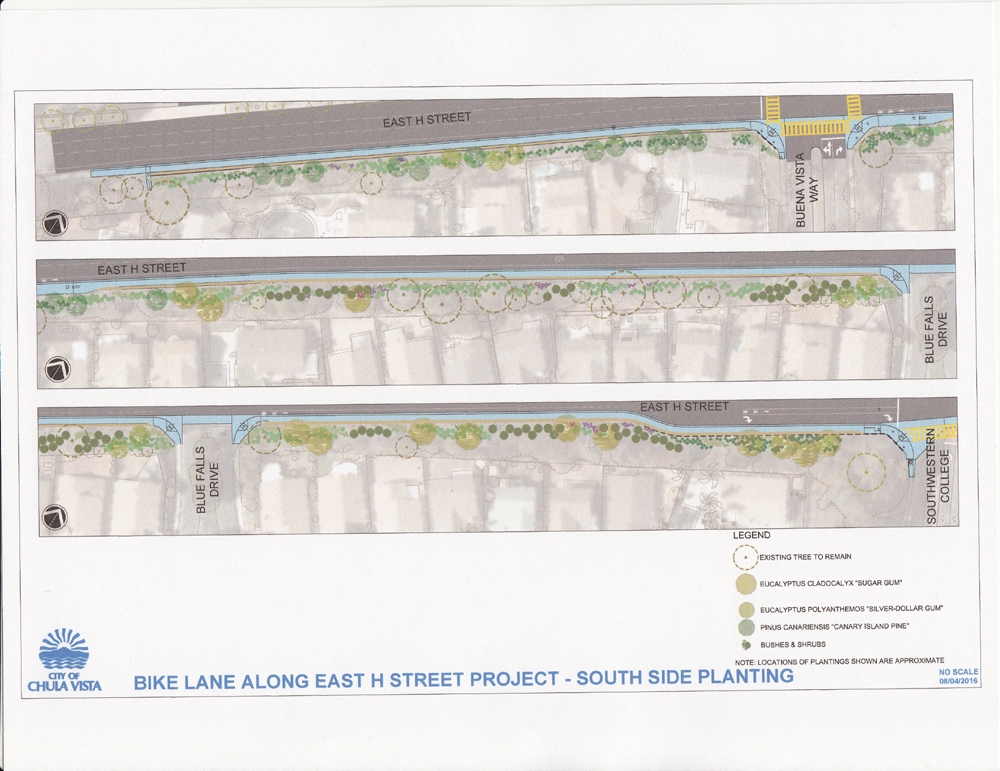 Hi, following up on a couple issues for your response to the community,
1) attached is the landscape plan depicting :
-the existing trees that were to remain
-the new Eucalyptus tree locations (Sugar Gum and Silver-dollar Gums)
-the new Canary Pine locations
-the new bushes and shrubs locations
(Note that landscape plans are somewhat schematic so slight variations in the location is not uncommon)
2) We will be conducting new speed surveys on the H Street corridor from Hidden Vista Drive to Otay Lakes Road.  Two of the three existing surveys in this section mentioned have expired and the third would next year.  Once the project is completed we will wait a month or so to allow drivers to adjust to the new narrower lane configurations and then will conduct the study.  We are also evaluating the existing signage so see if upsizing or additional signs would be beneficial.
3)  With regard to their request for a sound wall and questions regarding if we did a noise study analysis and wouldn't the City Noise Ordinance require it I am providing the pertinent ordinance section below.  Please note C.5 indicating that the noise from motor vehicles operating on public R/W (Streets) is exempt from this ordinance.  Additionally, as I mentioned at the meeting, since the project is not capacity increasing (adding more lanes) the existing noise levels are not likely to increase significantly (i.e. CEQA defines a significant increase to be at least 10dB) which is why this project qualified for a Categorical Exemption pursuant to CEQA Guidelines and did not require any noise analysis.  The residents stated that with the removal of the trees the noise levels went up but, that is simply not the case.  Vegetation does not provide perceptible reduction of noise levels.
19.68.060 Special provision (exemptions).
Warning Devices. Warning devices necessary for the protection of public safety, as, for example, police, fire and ambulance sirens, and train horns, are exempted from the provisions of this title.
Outdoor Activities. The provisions of this title shall not apply to occasional outdoor gatherings, public dances, shows, and sporting and entertainment events (excluding regularly scheduled school athletic events); provided, the events are conducted pursuant to a permit or license issued by the city relative to the staging of the events. The permit authority, as set forth in Chapter 19.58 CVMC, may, aside from this chapter, regulate and control noise caused by such outdoor activity.
Exemptions from Exterior Noise Standards. The provisions of CVMC 19.68.030 shall not apply to activities covered by the following sections:
Street sales – prohibited unless exception is granted per CVMC 19.68.070;
Construction/demolition;
Stationary nonemergency signaling devices;
Emergency signaling devices;
Motor vehicles operating on public rights-of-way;
Wherein noise limit exceptions or excesses are specifically provided for in the issuance of any temporary use permit pursuant to Chapter 19.54 and 19.58 CVMC or in city council approval of any parades, civic functions or gatherings, such specifics shall prevail.
Federal- or State-Preempted Activities. Any other activity to the extent regulation thereof has been preempted by state or federal law. (Ord. 2101 § 3, 1985).
I think that covers the issues, let me know if there are other items we need to respond to.  Thanks !
Bill Valle
City of Chula Vista
Assistant Dir.of Eng./ City Engineer
Office (619) 409-5976
Mobile (619) 540-0705